Bell's Blended Whisky 4.5 Litres 1970's and Bell's Original 4.5 litres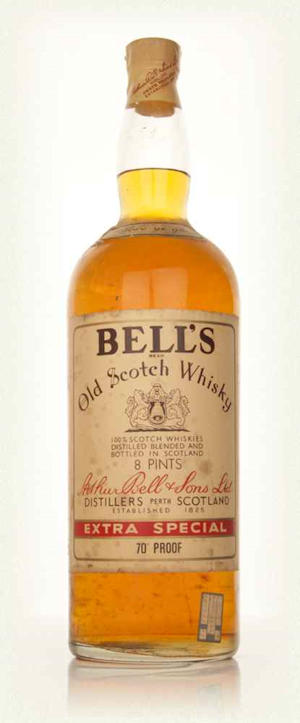 Bell's Blended Whisky 4.5 Litres 1970's and Origianl 4.5 litre
Information regarding Bell's Blended Whisky 4.5 Litres 970's
Bells Blended Scotch Whisky will need no introduction to most whisky drinkers. It is known worldwide and enjoyed by millions for this brand is quite often the whisky you receive when you as for 'house whisky' from a bar. But this bottle is a special one from the 1970's and is becoming harder to fine. and is 70% proof. With this Bell's Blend 1970's being a full 8 pints it really meant for a bar, but nothing stopping collectors and others buy this for the "future possible value". Today's price is £864 and can be bought at www.masterofmalt.com/whiskies/bells/bells-blended-scotch-whisky-4-5l-1970s-whisky/
Bells Original 4.5 Litre Bottled Blended Scotch Whisky - Gallon Bottle
Over the last 15 years Bells have put a lot of work into this blend and you could say it is now a blend that Bells can be very proud of. The whisky has a light fruity taste. The single malts that are used in Bells Blend have been aged for at least 8 years or longer. The single malts that are used are from the distilleries mentioned below.
If you are looking for the original 4.5 litre and can buy this at £ 123.74 - More details at www.masterofmalt.com/whiskies/bells/bells-original-4-point-5-litre-whisky/
Distilleries Details regarding Bell Blended Scotch Whisky
All the distilleries that are mentioned on this page regarding Bells were bought by Arthur Bell & Sons Ltd in the 1930's
Bells Scotch Whisky is owned by United Distillers & Vintners Limited. The whisky is made at Blair Athol Distillery in Pitlochry, Scotland and of course Blair Athol is a major contributor to the Bells blend along with other that are listed below. If you would like to contact the distillery at Blair Athol their detail are Blair Athol Distillery, Pitlochry, Perthshire, PH16 5LY. They have two different phone number with the first one for the distillery itself UK (0)1796 472161 and you can take a tour of the distillery and contact the visitor centre by calling UK (0)1796 482003.
Dufftown Distillery has been a major contributor to this blend since 1933 when the distillery was bought by Arthur Bell & Sons Ltd and has been used ever since. Also the Caol Ila Distillery in Islay, Glenkinchie Distillery in the Scottish Lowland, Inchgower Distillery in the Speyside region of Scotland all contribute to the making of the Bells blend. Really Bells blend is a truly overall Scottish whisky product as nearly every area of Scotland is contrubutes to its production.
£864.00
View Scottish Single Malts by Distillery
OTHER WHISKIES OFFERS